Our Motto
Satya Mev Jayate - Truth alone triumphs is the basic tenet on which the foundation of the little ones is cemented under the beacon of light guiding them to inculcate good moral values, honesty, simplicity and igniting a love for the country.
Our Vision
To create independent free thinking individuals with a high self esteem. Education being an all round development of the child. Green Fields Nursery School aims to mould the children in a manner that helps them to emerge as successful individuals with human virtues.
Shaping Dreams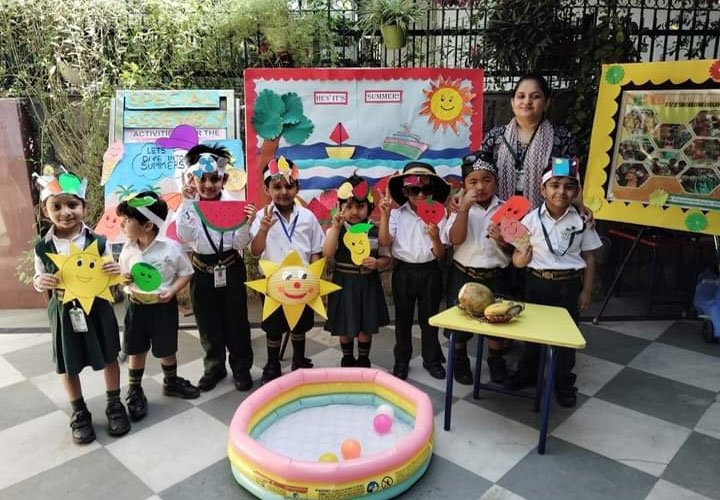 Green Fields Nursery School true to it's name is a home away from home where an imaginative & colourful ambience is provided to nurture the carefree young saplings till they blossom. An all around education is imparted in a fun filled environment where teaching and learning are carried out in an interactive manner in an atmosphere of love and care.
The children are exposed to a wide spectrum of experiences bringing about amazing changes in them while broadening their horizon and developing their intellect. Value based education plays a pivotal role in education at GFNS wherein social, moral and spiritual values are taught keeping in mind India's rich cultural heritage and traditions.
Emphasis is laid on the imbibing of good manners and etiquette by the tiny tots wherein respect for elders, punctuality, cleanliness, hygiene, politeness etc. are taught. Good grooming is the key to developing and all round personality.
Why Green Fields Nursery school?
Emphasis on stress free and joyful method of teaching
Co-curricular activities enrich the pupils creativity and provide interest and challenge beyond the classroom
Imaginative activities are woven in the school curriculum that help in skill building
Designing and using age appropriate tasks which help children to get a feeling of success and develop a positive self concept
Reaching out to parents through Newsletters and Parent-Teacher meetings
Experienced, trained, dedicated and competent staff to make learning fruitful and enjoyable
The school has two buildings for tiny tots with latest teaching aids and toys
An integrated approach to learning by providing a variety of experiences such as music and dance, art and craft, puppet shows, dramatization, story-telling, outdoor play and nature walk
Panorama of Activities
Innovative Teaching
The school aims at fostering in children an interest in realms unknown. They are encouraged to learn new concepts and ideas through thematic approach.
Sports - a way of life
"A healthy body is a abode of a healthy mind." We recognize the need and importance of games and sports for the development of the all round personality of the child. Therefore, sports activities like yoga, P.T and organized games are integrated with academics in equal measure.
Rythm and Rhyme
Music is an integral part of our school curriculum. The school takes a keen interest in the development of musical instinct of the child, reinforcing it with proper training throughout the year.
Book Corner
The school has a well equipped library which caters to the needs and interest of children. Each class has a library of it's own which encourages the children to read besides handling books with care.
Health and Hygiene
The health and well-being of the child is of primary importance. Every possible care of the child is taken during school hours and First Aid is given as and when necessary. Regular checking of nails, hair and cleanliness of uniform is done.
Audio visual teaching
To make learning more interesting and effective the school has two audio-visual resource rooms. Through these audio-visual classes, children get to know mythology and moral based stories. To promote the concept of pronunciation and language development, we have phonetic based CDs at various levels. Besides all these, our teachers present various topics through powerpoint presentations.
Learning by Doing
"Tell me and I'll forget, show me and I may remember, involve me and I will understand." Keeping this in mind, the school organizes a flurry of activities where children get the opportunity to unleash their own potential and also explore new ideas and knowledge through meaningful, interactive and fun-filled activities thereby helping them in the process of growing up into smart and confident individuals.
Excursions and Picnics
School organizes excursions and picnics each session for the children besides classroom teachings. These excusrions and picnic help the children to explore new places and various aspects of life around them which eventually broadens their horizon of knowledge.